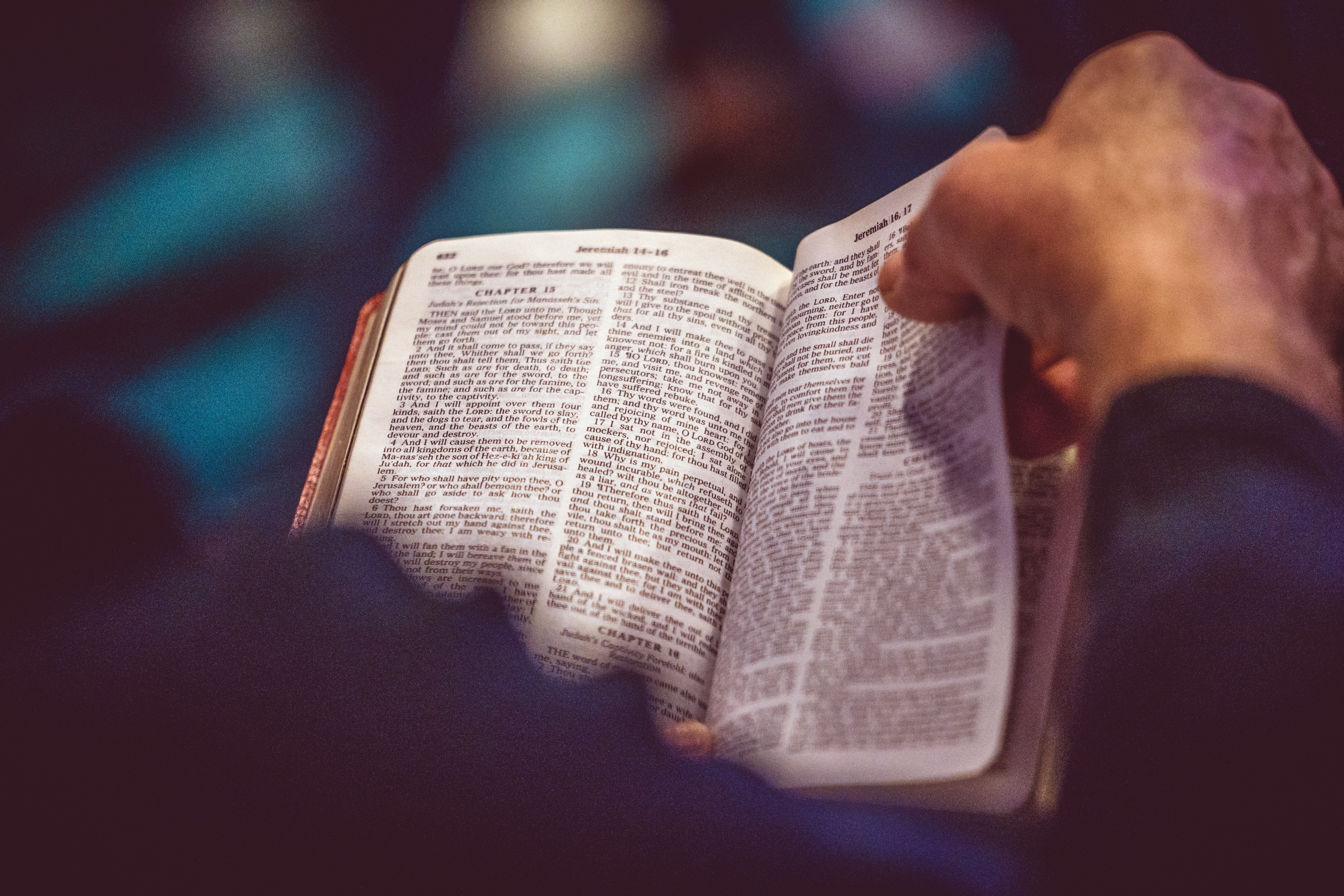 Listen to God's word, and be encouraged! You can access the past messages preached at Peace Church by clicking on "Sermons Online"
If you have questions on how to listen to a sermon, please click here for instructions.
Ephesians 2:1-10
Look at our God! Look at what He does! And now look at Him share His glory with us, inviting us to join Him on His throne. We fulfill our existence when we glorify God by sharing the glory of Christ.
Revelation 19:1-10
Look at our God! Look at what He does! He gives life to His people, life that will not end. We fulfill our existence in our awe at eternity, as we give glory to our eternal God.
2 Corinthians 12:1-10
Look at our God! Look at what He does! His strength is most evident, His grace is sufficient, when we are at our weakest. We fulfill the purpose for our existence when we glory in our weakness and give glory to our God.
Habakkuk 3
Look at our God! Look at who He is! He is holy and we are sinful. He is perfect and we are flawed. But we fulfill our existence, giving glory to God, for His perfect, holy grace.
Revelation 1:1-8
Look at our God! Look at what He does in this world! Now we fulfill our existence, giving glory to God, as we join Him in His mission to restore His creation.
Psalm 92
Look at our God! Look at what He does! He protects and saves His people in awesome and powerful ways, and we fulfill our existence when we glorify God.
Favorites About Jesus
This summer during the Sunday worship services, we will be spending time with Jesus, hearing Him teach and watching Him heal through your favorite passages from the gospels of Matthew, Mark, Luke, and John.
Luke 13:1-9
Not all suffering is a result of our sin. But, Jesus warns, a refusal to repent will lead to suffering. Admit your sin, Jesus says, and let Me change your life.
Matthew 7:13-20
There seem to be a lot of Christians out there, far more than would fit through the narrow gate described by Jesus. We will recognize our true brothers and sisters in Christ when we see them acting and talking and living like Jesus.
John 9
Can you see that you are blind? Or are you blind to the fact that you cannot see? When it comes to Jesus, it's the blind who see clearly that we are in desperate need for our Savior, Jesus.
Matthew 6:24-34
Why do we worry? What do we worry about most? What is the problem with worry? What could we change? How can we change? Jesus gives us a new perspective on life to lead us to new practices.
Matthew 6:5-15
Prayer is vital for good spiritual health. Do you know how to pray? Jesus provides a great model and gives us guidelines on how to pray.
Matthew 5:38-42
Our natural instinct tells us to act toward others as they have acted toward us. But God, through Jesus, changes our instinct, giving us the desire and ability to love our enemies as God has loved us.
Matthew 11:25-30
Only a mean and cruel parent would expect their child to do something beyond their capability, and our Father in heaven is not mean and cruel. Our Father knows we are children, and through His Son offers to exchange our heavy burdens for the light and easy yoke of Jesus.
Matthew 14:22-23
In the storms of life, Jesus seems far away, but He is Immanuel, God with us. Jesus still comes to us, calms us, calls us, and hears our call to Him.
Matthew 5:13-16
Believers in Jesus are the light of the world, reflecting the stronger, unquenchable light into a world of darkness. Shine, believers, shine!
Matthew 5:1-12
Following Jesus can have its problems, such as being insulted and persecuted for our faith. But living the life of Jesus also has its blessings, like comfort, mercy, and inheriting the world! You are blessed when you live the life of Jesus!
Mark 7:14-23
Our actions reveal our hearts; we live out of our internal desires and values. If our minds and hearts are tainted by evil, people will see it in our actions. But with Jesus living in us, His purity will be seen in our words and in our actions.
John 14:1-6
Throughout history, man has tried to find many different ways to heaven and eternal life. Jesus clearly explains which way is the only way.
Acts 2:1-21
Before Pentecost, God's people were notorious for their weakness and vulnerability. After Pentecost, God's people are renowned for courage and strength, moving out into this world in the power of the Spirit of Christ!
Psalm 93
When Jesus ascended to heaven and sat down at the right hand of God, He went to work, and His works are a sight to see. Look, watch, notice what Jesus is doing, and praise our Lord!
Hebrews 4:1-13
God created a day for rest, and He called that day, "Today." Today—any day—on whichever day we find ourselves—is a day of rest.
Matthew 12:1-14
For those who are tired, drained, and weary from the work week, Jesus offers healing in the rest of Sabbath. Come to Jesus, the Lord of Sabbath rest.
Isaiah 58:13-14
For people controlled by time constraints and schedules, the idea of Sabbath can feel threatening. But God offers a beautiful gift, the gift of abundant joy, if we will obey His command to rest.
Exodus 31:12-18
God provided a model for rest, not just one day a week, but for each day of the week. Today we will see how God provided the freedom to rest for His children in the Old Testament and in today's world.
Genesis 2:1-3
When we think that the world will stop spinning unless we stay busy, we are suggesting that God is not in control and that He's failing at his job. When we recognize that Jesus' death and resurrection are restoring this world to God's original creation, we can breathe a sigh of relief and rest.
THE NIGHT BEFORE (Lenten Series)
Preparing to remember Jesus Christ's sacrifice during the season of Lent
John 20:1-18
Sorrow is comforted and grief is healed in the presence of the risen Lord Jesus. Look at Him! Do you see Him? Jesus is Alive!
John 18:15-18; 25-27
We love Jesus, so how could we ever deny Him? Yet, like Peter, we, too, are capable of turning our backs on Jesus.
John 18:1-14
Jesus was arrested, placed on trial, and sentenced to death—and the whole time He was the one in control of circumstances. Our suffering Servant King is sovereign over all!
John 17:20-26
When Jesus prays for something, you know that He will receive His request. In John 17, Jesus asks His Father to make us one with each other like Jesus and the Father are one. We will be one, we are one, as close to each other as the members of the Trinity.
John 15:26-16:15
We miss Jesus, we want Him to return. But while we eagerly wait for Him to come back, we are filled with His power, His wisdom, and His character, because of His gift, God the Holy Spirit.
Revelation 3:14-22
What is the issue of being "lukewarm"? How can it be overcome?
John 15:1-17
An eternally fruitful life is possible through our connection to Jesus, if we can remember that connection. Remain, abide, be fruitful in the life you receive from Jesus.
John 14:1-14
Heaven seems so far away and Jesus seems so distant. But look again, see the Way home. Look at Jesus, who is the Way, the Truth, the Life.
John 13:1-17
Our sins have created a chasm between us and God, a divide that we cannot cross. But Jesus has removed this chasm through His death and resurrection, washing away our sins with His own blood.
SORROW & JOY ~ THE BOOK OF JEREMIAH
Jeremiah (627-585 BC), a prophet, spoke to the nation of Judah. The theme of Jeremiah is "God promises His people a new covenant beyond the necessary exile."
This is the covenant I will make with the house of Israel after that time, declares the Lord. I will put My law in their minds and write it on their hearts. I will be their God, and they will be My people. Jeremiah 31:33
The book of Jeremiah is a constant reminder of God's promise in Deuteronomy, that His chosen people will be cursed for their unfaithfulness to Yahweh (Jehovah) but that God will also restore them, establishing a new covenant which will be fulfilled through Jesus, David's "righteous Branch" (Jeremiah 23:5). Jeremiah is best understood in the context with the political intrigue of the kings of Judah, which you can read more about in 2 Kings 22-25 and 2 Chronicles 34-36. Wrangling over how to respond to national threats, what alliances should be made with other countries and God's covenantal responsibility to His people create a tense setting for Jeremiah's ministry. He is called to speak in opposition to the dynasty of King David and the flatters and minions of these unfaithful kings. His job is to speak truth to power, as unpopular as it was.
The heart of Jeremiah's prophetic words are found in Chapters 1-25, which probably make up most of the scroll that was burned by Jehoiakim, as recorded in Chapter 36. Interwoven through these warnings are moments where Jeremiah and God interact, with Jeremiah expressing his fear of how the people will respond and God reassuring him of His sovereignty.
The structure of Jeremiah:
Chapters 1-25 - Prophecies of judgment against Jerusalem
Chapters 26-36 - Narratives of hope for the future
Chapters 37-45 - Narratives regarding the fall of Jerusalem
Chapters 46-51 - Prophecies of judgment against the nation
Sources: How to Read the Bible Book by Book by Gordon Fee, Douglas Stuart
How to Read the Bible Through the Jesus' Lense by Michael Williams
Jeremiah 51:45-64
We love our enemies, we pray for those who persecute us. But we refuse to join our enemies, knowing that some day they will be destroyed because of their rebellion against God.
Jeremiah 33:1-11
Home. We want to go home to our native country, to be with our Father. Soon, our exile will be over and we'll be able to go home.
Jeremiah 31
God is our God. We are God people. This relationship, under the new covenant cannot be broken.
Jeremiah 20
Sin has consequence but so does obedience. Sometimes, living righteously results in great suffering for believers. But obedience is worth the suffering as we remain in the comfort of the presence of the Lord
Jeremiah 8:4-17
Our instinct tells us to run and hide when we're caught doing what God told us not to do, but that reaction is deadly. God urges us to return to Him in repentance and find forgiveness.
Jeremiah 7:16-29
Jesus died and rose again to forgive us of our sins. And yet, when we sin, there are consequences. God in His mercy warns us that we only hurt ourselves when we choose to sin.
Jeremiah 3
Our treatment of God is grounds for divorce. He had every right to end our relationship. And yet, His love never fails. He wants us back!
Jeremiah 1
We are introduced to Jeremiah who called and prepared by God to bring a very unpleasant message from God to Judah.