Peace Church History
A Timeline of Significant Events in Peace Church History
1963 Five Christian Reformed Church (CRC) families in Cedar Rapids signed a request asking the Board of Home Missions to begin work in Cedar Rapids.
1964 Rev. Albert Haan arrived in June to open the field; toward the end of the year he recommended not to proceed at this time. The field was closed December 31, 1964.
1966 March – Rev. John Piersma and two Cedar Rapids families met with Classis Pella Home Missions Committee to discuss possibilities of beginning the work again. May – First CRC in Pella asked Classis to adopt Cedar Rapids as a Classis Home Mission project. Classis decided that First CRC of Pella "should do what it can." Rev. Piersma arranged for himself and others to come to Cedar Rapids for afternoon worship services. Worship and Sunday School met in the Marion Library. A midweek Bible Study group was also started in homes. Bowman Woods before 1968
1967 Vacation Bible School tents were set up in Donnelly Park. Calvin Seminarians assisted with VBS
1968 Late in 1968 First CRC in Pella and the Cedar Rapids group petitioned the Board of Home Missions again to reopen Cedar Rapids as a denominational field; the request was endorsed.
1969 February – The Board began calling for a missionary pastor. November – Rev. Peter Hondred arrived to be stated supply until the following spring; meetings were held in the newly built Bowman Woods School.
1970 Rev. Earl Dykema arrived to become the missionary-pastor in June. In September, the church site at 6600 C Avenue was purchased for $35,000.
1971 The congregation adopted a budget of $119,000 for the church building.
1972 The congregation gives final approval for the church plan and holds ground-breaking. An organizational meeting with charter membership of 11 families, including 52 persons, was held July 12.
1973 February 4 – First meeting in the new building. February 15 & 18 – Dedication of Peace Church, to serve 60 families initially, then to be enlarged to serve 125 families. Peace Church painted the large sliding doors many times at Christmas and Easter.
1977 February – Rev. Dykema accepted a call to be Regional Home Missionary in the Southwest (Classis Red Mesa). June – Rev. Ken Van De Griend accepted the call to be our second pastor.
'79-'83 Membership grows fast due to booming economic conditions in Cedar Rapids.
1981 Groundbreaking and construction of the education wing at a cost of approximately $100,000.
1982 Dedication of the education wing.
1983 Rev. Van De Griend accepted a call to Shanwee Park CRC in Grand Rapids, Michigan. September – Candidate Gerald Hoek (former intern 1982) accepted the call to be our third pastor and was ordained and installed.
'83-'84 An economic slump hits Cedar Rapids resulting in a loss of 15 Peace Church families in 24 months.
1985 Peace Church became independent from Home Mission funding.
1990 The sanctuary was remodeled to provide more seating; windows replaced the sliding glass doors on the south side of building.
1992 June – Rev. Hoek accepted a call to become pastor of Faith CRC in Nashville, Tennessee.
1993 August – Rev. Douglas Mac Leod accepted the call to be our fourth pastor.
1996 Architect produced a full site and facility expansion master plan; completed in 1997.
1997 To accommodate increasing attendance, two morning worship services began,as well as the evening service. The 25th anniversary celebration has 329 worshipers. Promised Land Christian Preschool started with 12 students.
1998 Preschool enrollment increased to 28 students; fully licensed by the State of Iowa. Congregation approves $770,000 for the fellowship hall project.
1999 The 1985 building loan was paid off and the mortgage burned. Expansion of fellowship and education wing began April 15 with dedicated November 21. We returned to one morning worship service and an evening service.
2003 Back Yard Bible Clubs in members' yards replaced VBS.
2004 DivorceCare and DivorceCare for Kids is incorporated as a ministry of Peace Church.
2008 Council approved beginning a convergent (blended) worship service to start in September. Pastor Mac Leod accepted a call to Calvin CRC in Grand Rapids; Following major flooding in the Cedar Rapids area in June, a CRWRC Needs Assessment team used Peace Church as a staging area; team members stayed with church members. Many members participated in Eight Days of Hope to work in 140 flood-damaged houses. The Full Grace Ministries congregation began using our facility after losing theirs in the flood.
2009 Rev. Gary Brouwers accepted our call to be our fifth pastor and arrived in July. [L-R Earl Dykema, Ken VandeGriend, Jerry Hoek, Doug Mac Leod, Gary Brouwers]
2012 A new exterior electronic sign is installed at the C Ave. entrance. Peace celebrates 40 years on August 4 & 5.
2015 Promised Land Christian Preschool closed its doors on May 19, 2015 because of declining enrollment caused by free public preschool. New Vision is launched with seminars on the spiritual journey and sharing our faith stories.
2017 Building renovation starts on west end storage and adding a gathering/cry room off the sanctuary as well as additional handicap parking to lower level. The last evening worship service is held December 17, 2017.
2018 Renovation continues by converting part of the nursery space to storage. The workroom half-wall is removed to create a more flexible space. The former coatroom and storage is removed to create a larger hallway from the fellowship area to the sanctuary. Doors are added to the east end of the sanctuary hallway. Walls are painted and carpeting is replaced throughout the main floor to complete the project.
2019 Church Renovation finalized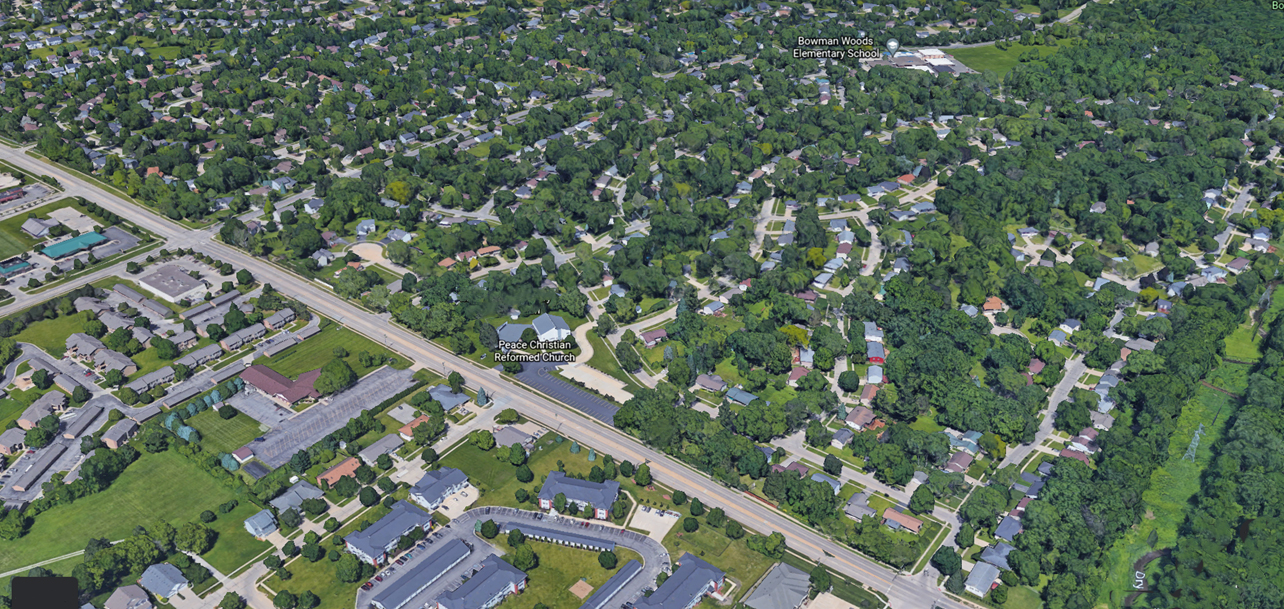 2020 COVID-19 - People are asked to meet in groups of less than 10 to help reduce the spread of the virus. March 22, we began livestreaming via YouTube. By April 5 we had only 5 people leading the livestream from church (Pastor, pianist, vocalist, projectionist and video/sound technician).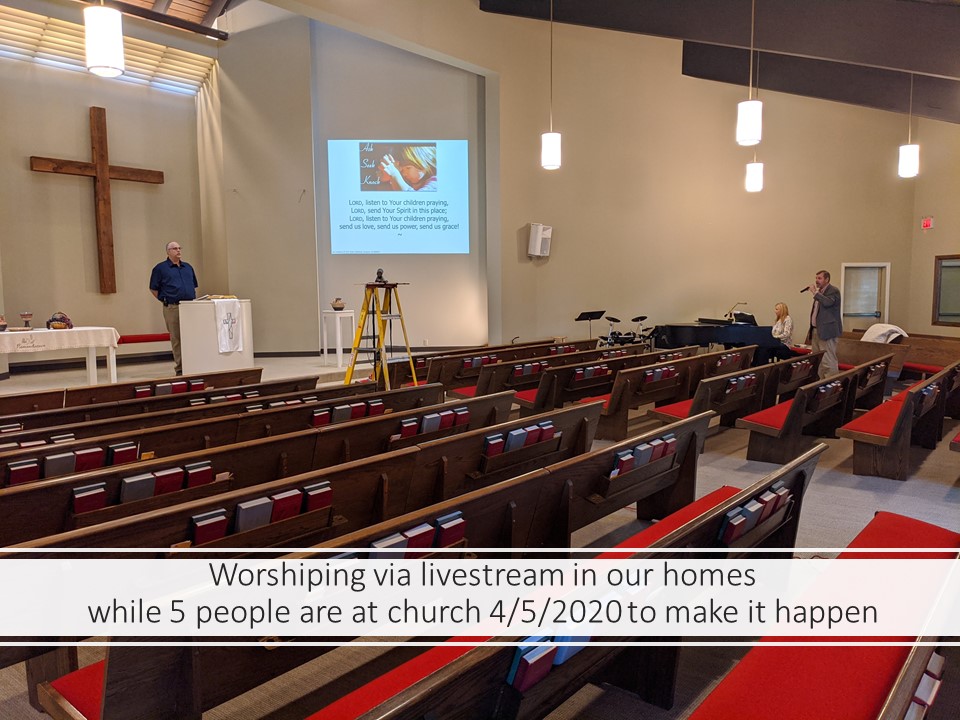 2020 Aerial view of Peace Church's neighborhood. In August 2020 Linn County sustained 140 mph hurricane force winds for 45 minutes, a Derecho. Sixty percent of the tree canopy seen in this photo were damaged or destroyed.
2021 We are back to meeting in person and offering livestream worship services following CDC and Linn County Health guidelines. With many of our members being vaccinated, Easter Sunday proved a full service where some of our social-distancing restrictions were removed. The usage of masks was still strongly recommended.
2022 Plans are being made for our 50th Anniversary celebration August 20-21.